3 Adventures Not to Be Missed in Belize
By Glynna Prentice, InternationalLiving.com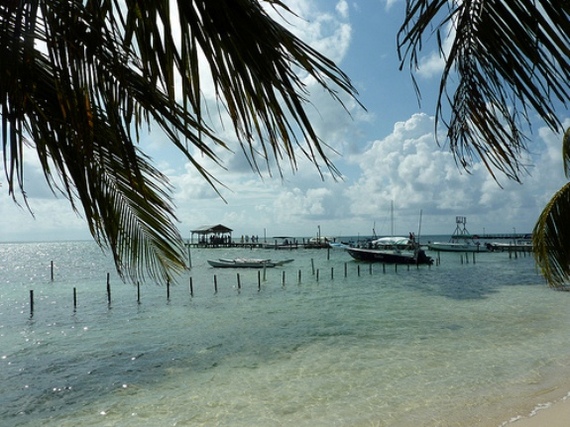 Photo from Glynna Prentice, InternationalLiving.com
As the plane sets course toward the mainland, I spy the blue Caribbean below. The water is so crystal-clear that I can see the rocks and sand along the seabed. Belize's little commuter airplanes are the best way to appreciate the diversity of this small Caribbean country.
From the air you appreciate the beauty — and isolation — of its white-sand cayes and the rolling green hills of its jungle interior. And the planes, like Belize itself, are small and intimate (the largest I've been on held just six passengers).
Flying in one always makes me feel a bit like Indiana Jones heading off for adventure… And Belize is definitely one of my favorite countries for adventure. Here you can climb ancient ruins, wall-dive off the end of the barrier reef or trek in the jungle. And though you can feel like a Victorian explorer, you're never really far from civilization…which is the way I like it.
At the end of a hard day's exploring, you can kick back and enjoy the street scene in Belize's many small towns, with their wonderfully diverse ethnic mix–an adventure of another kind.
Here are three things to do in Belize that will give you a taste of this tiny titan's diversity:
Belize is known for the quality of its snorkeling, thanks to the barrier reef offshore and the wealth of tropical fish.
You can snorkel most anyplace, but I like Caye Caulker for its informal ambience, low prices (a three-hour snorkeling trip costs around $25 at the many dive shops in town), and the variety of après-snorkeling restaurants and bars. (Try Habanero's or Rose's Grill & Bar–where you can pick your own seafood from the day's catch out front–for upscale eats.)
While you're still wet from your snorkeling expedition, go for a swim off the Split, Caye Caulker's most popular swimming hole, and get a cold drink at the nearby Lucky Lizard bar. It's a great way to unwind.
For a mystical experience, there's nothing quite like a visit to the ATM Cave (Actun Tunichil Muknal), in western Belize near San Ignacio Cayo District. The ATM Cave was a sacred ceremonial site for the ancient Maya–they considered it an opening to the underworld–and it still retains its spooky, spiritual atmosphere.
See also: 15 Beautiful Belize Vacation Photos
Visiting it today is an archaeological triathlon of sorts: You must first hike to the cave entrance, then swim–in fairly deep water at times–into the entrance tunnel, and eventually walk a mile or more along a path inside that winds amidst Mayan artifacts and human skeletons…some a thousand years or more old.
Trips to the ATM Cave are by guided tour only, and a limited number of guides have permits. If you're a Mayan archaeology buff, don't miss this cave…and go sooner, rather than later. The Belizean government is sure to eventually close this cave to tourists–or at least remove the artifacts and replace them with plastic replicas. A trip to the cave costs about $75 to $100 a person, depending on the tour. (See Mayawalk.com for more.)
As in nearby Mexico, you can swim with whale sharks in Belize. The world's largest fish, whale sharks grow up to 60 feet in length, so sharing the water with them is both awe-inspiring and a little scary.
These plankton-eating behemoths congregate off southern Belize, in the Gladden Split marine park, from about March through June every year. Tours to swim with whale sharks leave from Placencia, Hopkins, and from Glover's Reef Atoll.
It's possible to see whale sharks just with snorkeling gear (I've done it myself). However, many of the Belize expeditions are designed for scuba divers and involve dives of 80 to 100 feet in depth. Whatever your equipment, you can't be guaranteed you'll see whale sharks on any single expedition, since these are wild animals in the open ocean.
Many expeditions are therefore part of a several-days'-long diving package, so that you're guaranteed some good dives, the chance to see plenty of fish, and often more than one trip to look for whale sharks. Diving packages run from about $900 to $1,300 for several days' diving, up to $1,700 and more for a full week. (You can keep reading about the Placencia Peninsula, at Robertsgrove.com).
This article comes to us courtesy of InternationalLiving.com, the world's leading authority on how to live, work, invest, travel, and retire better overseas.
Comments