With wild jungles, Mayan ruins and serene beaches, could this exuberant corner of Central America be the hot new place to go? Martha Hayes packs her boots and bikinis
'Anyone wearing perfume?' asks Belizean conservation officer Roni Martinez as we pile into the back of a dust-covered Land Rover with all the high-tech camera equipment, binoculars and machetes necessary for a 8am trek into the Mountain Pine Ridge Forest Reserve.
Everyone in the vehicle raises a collective eyebrow, but it's a valid question. Following recent clinical tests that involved dousing a tampon in Obsession, it turns out the elusive jaguar is attracted to a whiff of Calvin Klein. Sadly, I'm not wearing it and, coincidentally or not (they're more likely to be spotted at night), we fail to see one of these strikingly beautiful yet highly endangered big cats. Tracking jaguars is a prime reason to visit Belize, which is home to a roll-call of wildlife that includes scarlet macaws, howler monkeys and the large Baird's tapir.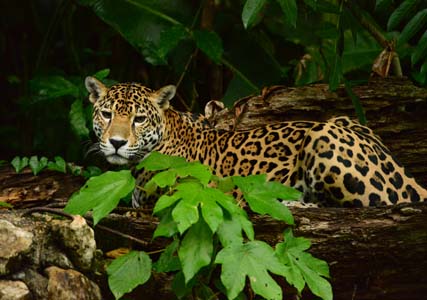 Nice coat: Belize is the place to go looking for jaguars
Gazing out over magnificent waterfalls and acres of forest with trees seemingly coloured in with green Crayola crayons, we move on to an amusing game of first person to spot a toucan gets a beer. Being the national bird, this has got to be easy, right? There are so many false alarms, I soon learn a very important lesson in life: getting excited for nothing is still good for you.
I never dreamed I'd get into birdwatching. Truth is, I'd barely heard of Belize until, looking into the options for a Central American holiday, I twigged that picking the former British Honduras was a no-brainer – both on a fuss-free level (everyone speaks English and US dollars are widely accepted) and a geographical one. Wedged between Mexico and Guatemala, and similar in size to Wales, travellers get to put one foot in the dense, vast jungle and the other in the sparkling, calming Caribbean Sea. Or, as I do, knacker yourself pretending to be Indiana Jones' better half, then recuperate at the beach. To do one without the other would be to misunderstand this utterly unique and remarkably unspoiled country.
See: Living in Belize
After flying into the capital, Belize City, we take a charter flight west to Cayo District (alternatively, it's a two-and-a-half-hour drive) to spend the first part of our trip at Blancaneaux Lodge. This luxurious yet rustically charming off-the-beaten-track resort is owned by legendary film director Francis Ford Coppola and is home to fast-flowing rivers, bountiful gardens and 20 mountainside cabanas and villas. He discovered it in 1981, while searching for the jungle retreat he relished while shooting the movie Apocalypse Now in the Philippines. After more than a decade as a family bolthole, it was opened to us mere mortals in 1993.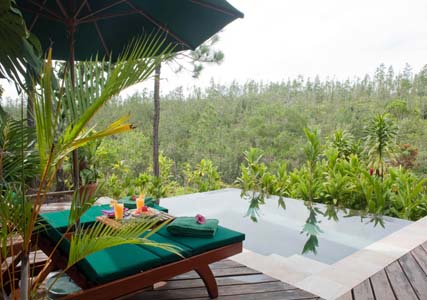 Queen of the jungle: sleep in style at Blancaneaux Lodge
Following some refreshing Jaguar Juice – a pineapple rum welcome cocktail – we're checked into a spacious woodland villa designed both for comfort (homemade coconut cookies? I'll take a jarful) and wow factor. From our hammock in the magical tealight-lined open-air living room I can see – and hear – wild streams and tropical pines teeming with squawking birds. But there's little time to kick back: with so many friendly, helpful staff (they all know our names; how do they do it?), it's impossible not to get excited about everything you can do here, from mountain-biking to a Thai massage.