10 Things You Must Do During Your Next Trip to Belize
Maybe your cruise ship docked for only a day in Belize, which didn't allow you the time to explore much of the local culture, jungles or coral reefs. Or perhaps you stayed at one of the all-inclusive resorts and didn't venture out beyond the sun, sand and water. If so, book the next flight you can back to this breathtaking Central American country. Its 9,000 square miles has an abundance of adventures to offer and is often overlooked by travelers. Plan to spend a few thrilling days diving into some of the most unique experiences found anywhere in the world.
Here are 10 things you must do during your next trip to Belize:
1. Fly Over the Blue Hole for Breathtaking Views
Located off the coast of Belize, the Blue Hole is the largest ocean sinkhole in the world. Created by a collapsed underground cavern, it appears as a dark blue circle among the startling turquoise sea. Although cruises and snorkeling boats circle the Blue Hole daily, the most spectacular way to see this marvel is from the air. Only an aerial view does justice to the vast magnitude and deep colors that make this one of the wonders of the world. Astrum Helicopters offers personalized tours over the Blue Hole as well as other destinations in Belize. They will even pick you up from practically any hotel in the country.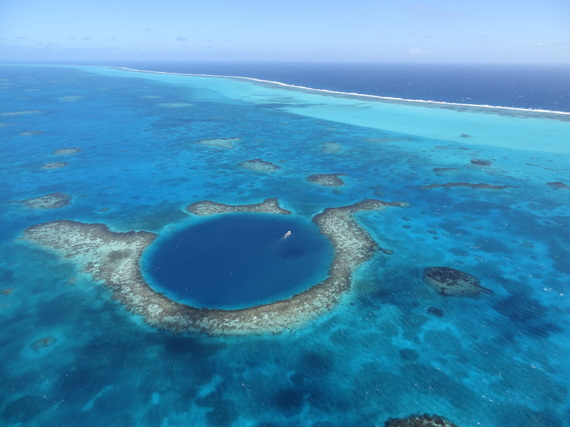 Photo by Sucheta Rawal
2. Get Your Adrenaline Up at the Longest Zip Line
The longest zip line in Central America is 2,300 feet long and is located at theMayflower Bocawina National Forest near Silk Grass Village on the Southern Highway in Belize. Nestled amidst 7,000 acres of pristine lowland broadleaf forest in the saw-toothed Maya Mountains, this adventure center offers day and nighttime zip-lining, waterfall rappelling and hiking.
The 1.5 miles of zip lines stretches across 12 platforms, starting with short easy zips that get progressively longer, faster and steeper. The final one is the longest, lasting over 30 seconds. There is also a surprise rappel built into the course. Make sure to keep an eye out for waterfalls along the way.
3. Step Back in Time at Historic Mayan Ruins
Belize is considered part of the southern Maya lowlands of the Mesoamerican culture area. The area peaked in growth during the classic period dating from 250 AD to 900 AD, although the settlements date as far back as 400 BC. Many of the excavations highlight preserved plazas, pyramids, temples, frescoes, tombs and ball fields.
Start by visiting Altun Ha and Lamanai in Northern Belize, and then make your way down to Xunantunich (the most impressive ruins), El Pilar, Caracol (the tallest Mayan building in Belize as well as the tallest man-made structure in the country), and Tikal (located on the Belize-Guatemala border and the most excavated Mayan site).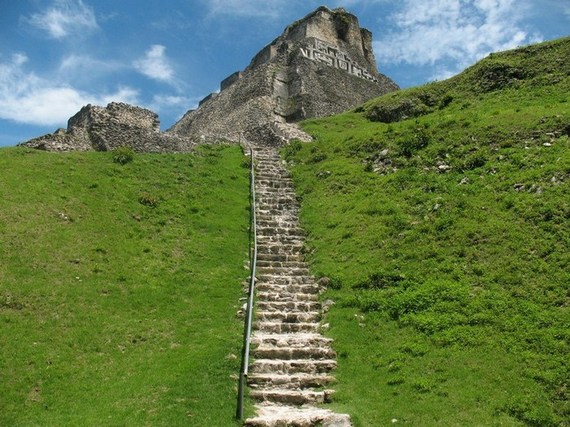 Photo by Belize Tree houses at Caves Branch
4. Dive, Snorkel and Kayak at the Second Largest Coral Reef in the World
One of the greatest attractions of Belize is the Belize Barrier Reef, made up of 185 miles of beautiful corals, cays and islands. While water temperatures are pleasant year-round, the best time to dive is December through July. White sandy beaches, turquoise waters and miles of untouched, unspoiled beauty are only a few reasons to dive into the gorgeous waters of Belize. Be prepared to see a variety of hard corals, gorgonians, sea fans, tunicates, shellfish, grouper, stingray, manta ray, spotted eagle ray, hammerhead shark, Caribbean reef shark, whale shark and oceanic white tip shark depending on the area in which you are swimming.
There are hundreds of islands dotting the Belizean coastline, many of which offer resorts, lodges and dive shops for guests looking to avoid large crowds and to be one with nature. The hotels also offer dive tours from the mainland.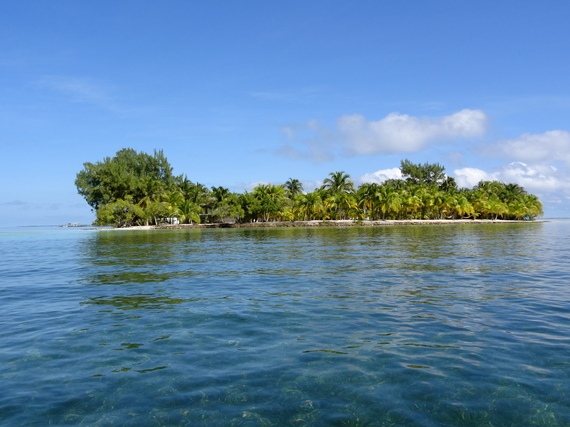 Photo by Sucheta Rawal
5. Connect with Spirits Through a Real Shaman
Shamanism refers to a variety of spiritual practices involving rituals, prayers and healing. A shaman (priest or practitioner) is considered an intermediary or messenger between the human world and the spirits. A Shaman's important role in Mayan history has been that of a priest, doctor, spiritual healer and community advisor.
Mr. Jovencio Canto, a Mayan Shaman, offers ceremonial practices at his home or by invitation. A two-hour session may include a dedication to a deceased family member, prayer for one's health, prosperity, and relationships, or anything else you desire. During the ceremony, spirits are invited and offerings are made.
The holy practice has been passed on from generations to generations, and it is very interesting to observe the strong beliefs that Belizeans of today hold. Although Mr. Canto has a daytime job, he carries on this tradition to help people and to do good deeds. There is no cost for his service.
Read more: http://www.huffingtonpost.com/sucheta-rawal/10-things-you-belize_b_4788372.html
Comments