Part 2 Belize: Two Of The Most Popular Retirement Spots
Ambergris Caye is Belize's top tourist destination. And it's easy to see why. Turquoise waters, swaying palms… And the longest barrier reef in this hemisphere. The reef system is home to an underwater sinkhole called the Great Blue Hole, and to hundreds of other idyllic islands, snorkel and dive locations. And Ambergris Caye is the jumping off point to it all.
If you love water sports, this is the place for you. If you're a fisherman, you can hook a pretty big fish in these waters, but be warned that you may be hooked yourself. A growing number of foreigners are calling this island… and nearby Caye Caulker… home.
The larger of these two islands, Ambergris Caye is Belize's center for ocean sports during the day and for partying at night. It's the largest of the 200-plus islands off the country's coast. Most of the island's 12,000 residents (about one-third of which are expats) live in San Pedro, the only town on the island.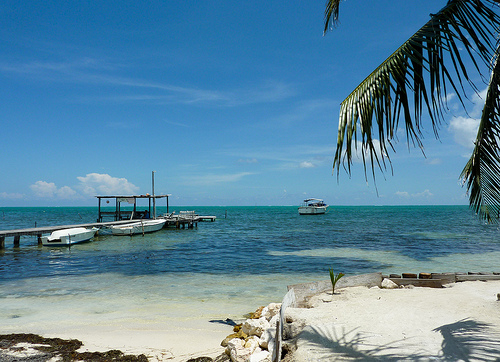 Caye Caulker, courtesy of Glynna Prentice, InternationalLiving.com
Don't worry — it's easy to find your way around town. The three primary streets are called Front, Middle, and Back Street. And along them you'll find shops and businesses, and lots of fun bars, restaurants, and nightclubs.
Getting to the island is easy, too. You can take a ferry from the mainland for $15 one-way from Belize City and $22.50 from Corozal. The island is also serviced by hourly scheduled flights from Belize City's international and municipal airports and from Corozal. Flights take just 15 to 20 minutes and offer a breathtaking view of the Caribbean, including lots of little deserted islands.
The San Pedro airport is in the middle of town and it's easy to get from there to wherever you're going… either on foot or by taxi or by golf cart, the preferred means of on-land transportation.
What's life on the island like? No shirt, no shoes, no problem is the unofficial slogan here, if that gives you an idea…
For good or bad, development is well underway. New hotels and residential communities continue to be built both south and north of town. North Ambergris, separated from the south by a river channel, and now with a new bridge, is starting to achieve critical mass. Previously totally off the grid, there is now electrical power.
The new hotels are very up-market. It's not unusual to pay $400 per night or more in high season. And remember, everything is imported, including food… except fish, of course. For sure, this is not a backpacker island. Items in the grocery stores and the upscale wine shops are expensive… you may get sticker shock. Liquor and wine will cost you twice what it costs at home, although local rum is affordable — usually less than $10 a fifth. And the local Belikin beer is inexpensive and tasty.
Read more: http://www.huffingtonpost.com/
Comments